Become a Member
Click below to join the Potowatomi Chapter of the IMBA or to get more information about membership benefits:

For over 20 years the Potawatomi Mountain Bike Association has worked to promote, build, maintain and protect the trails in and around Washtenaw County. Now Poto MBA has teamed up with IMBA and their Chapter Program which will allow them to focus efforts on advocacy and trail work while IMBA handle the details. Poto MBA strives to employ the highest standards of sustainable design and build natural surface singletrack trails that are low maintenance and fun to ride. They work closely with State and Local land managers to ensure that the decisions that affect our trails have representation from Chapter members and fellow riders. Whether it's The Poto, Brighton, Ann Arbor, Ypsi or Canton your support will allow Poto MBA to continue to work hard to keep our trails ready to ride.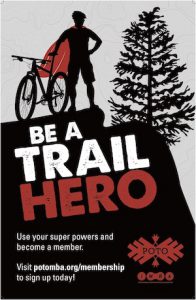 Members of the chapter communicate and meet regularly to discuss and plan the issues surrounding out local and state trail systems.  Chapter activities that are available to members include:
Chapter Meetings
Group Rides
Trail Maintenance Days
Fundraising Events
All Poto Chapter members are also members of the International Mountain Biking Association and as such receive a number of benefits depending on the level of membership.  Some of these benefits include:
Discounts on IMBA apparel and products
Free IMBA biking socks
$1,300 – $3,300 off of new Subaru purchases
Access to IMBA Trail Building School
Product discounts for a variety of vendors (Pedro's, Primal Wear, BOB Trailers, trail building tools, etc)
In order to be voting member of the Poto Chapter, simply sign-up with the International Mountain Biking Association and designate Potawatomi Mountain Biking Association as your local chapter.  By doing that and paying an annual membership fee (starting at $39), you will have access to all membership benefits and be given voting privileges at chapter meetings.
If you are interested in more information about becoming a member or if you wish to join, click
here
.