Triple Trail Challenge
Triple Trail Challenge
Information and registration for the 2023 Triple Trail Challenge
Register today for Triple Trail Challenge 2023!
Tree Fort Bikes and the Potawatomi Mountain Biking Association are proud to present the 2023 Triple Trail Challenge!  Riders will experience nearly 50 miles of SE Michigan's premier single-track combined with scenic gravel roads, all nestled in the heart of the Waterloo-Pinckney State Recreation Area. Ride it all or try a shorter loop.
Similar to last year, this year's Triple Trail Challenge is a 2-day, pre-register only event. You can ride on Friday, September 15 or Saturday, September 16 or both!  The rain date is September 17th. This non-competitive ride is capped at 700 riders, so register early!  
Entry to the event is $40 and is pre-register ONLY. There will be no day of registration! You will receive a number plate for your bike and a wristband which is required for entry to the beer garden. Proceeds and donations from TTC 2023 will help fund the Poto Revitalization Project.
Register for 2023 Triple Trail Challenge here:  http://www.tripletrail.com/reg.php
Registration includes a course map, an aid station stocked with food, hydration and mechanical support, AND an entry to the after party. The aid station and after party will take place on Saturday only (rain date Sunday the 17th).  The aid station, post ride food, swag, and entertainment are provided by Tree Fort Bikes.  Local craft beer from Wolverine State Brewing Co. will be available for $5 per glass. 
Pre-order merchandise by August 16th at midnight
TTC logo pint glasses and men's and women's event T-shirts (see below) are available by pre-order only here! Pint glasses are $15, and t-shirts are $30..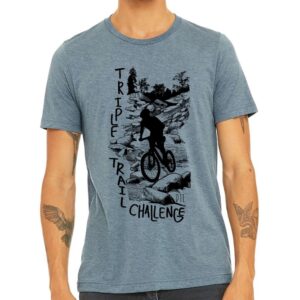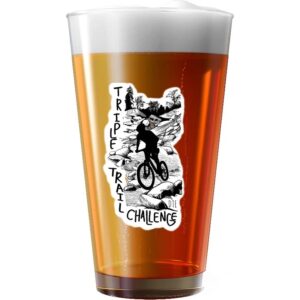 Packet pickup
Number plates, wrist bands and pre-ordered merchandise can be picked up at Tree Fort Bikes 1866 Whittaker Rd. Ypsilanti from September 11th to 15th. We will also have a pickup station one night only at Wolverine State Brewing Co., 2019 W. Stadium Blvd in Ann Arbor. Look for the Poto MBA tent in the parking lot on Thursday, September 14th from 7:00 pm to 9:00 pm. 
The Route
The route will be similar to last year, using the connector as a one way trail, paved path to the Waterloo hiking trail at Green Lake/M-52 to Bush Rd./ McClure Rd. into Sugar trail, then the return route. Be aware that trails may run through areas open to hunting, so orange or bright colors are recommended.
The after party is held on the picturesque shore of the Silver Lake swimming area. You can take a refreshing dip in the lake and hang out! Each trail has a unique character. Poto is known for its "old school", technical climbs and descents, and that big loop trail design that makes you feel like you're far away from everything. The Waterloo-Pinckney hiking trail is a rare sight for riders and will allow you to experience the rustic beauty of the recreation area that might otherwise go unseen. Then roll on to the flow of Michigan's "Dirt Roller Coaster". The DTE Energy Foundation Trail is full of sculpted berms, rollers, jumps and rock piles that will have you grinning and feeling like a kid again. 
You and your friends can challenge yourself with a full-on epic adventure or scale it down to one of the shorter loop options. 
Triple Trail Challenge is the single largest fund-raiser for the Poto MBA, so register today! More info about Triple Trail Challenge can be found here: http://www.tripletrail.com/about.php.
Membership promotion – Join or renew your IMBA membership with auto renew at 2023 TTC and you will receive a free limited edition Poto pint glass. 
Triple Trail Volunteers Needed!
We need your help! For this event to run smoothly, we need many volunteers during TTC and beforehand. A little of your time can go a long way! You can volunteer and still do the ride. Sign up for one of the many flexible volunteer options on Sept. 16 here or to help with handing out merchandise and registration packets at Wolverine State Brewing on Sept. 14th here.