Black Friday MTB and Gravel Ride
November 26, 2021 @ 10:00 am

-

2:00 pm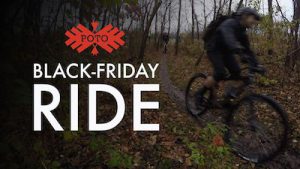 Join the Potowatomi Mountain Biking Association as we lead a fun group ride on Black Friday.  After the ride, we'll enjoy pizza and brews sponsored by Wheels in Motion bike shop. 
The 13th Annual Black Friday MTB and Gravel Ride at Rolling Hills and Hewens Creek Parks in Ypsilanti Township takes place on Friday 11/26 at 10 AM. This event is a no-drop group ride and is a great chance for novice MTBer's to get exposure to single track & gravel riding, meet new riders and burn off that Thanksgiving feast to get a jump start on 2022 fitness plans. 
 The MTB ride will be about 15 miles long covering ~6.0 miles at Hewens Creek and ~7.0 miles at Rolling Hills along with some connecting trail between the two parks.  For those who are unfamiliar with these trails, Hewens Creek is flat & winding ride through meadows and new growth forest which is great for beginner riders.  The RHP trail on the other hand twists and turns through 4+ miles of forest and rolling hills along with ~3 miles of open meadows providing a great opportunity to improve your bike handling skills:  14.9M Black Friday MTB on Strava 
 There will be two gravel rides again this year at 16 and 29 miles, respectively, on the sparsely trafficked roads south of Rolling Hills Park.  The gravel rides will leave at the same time as the MTB ride:  16.1M Black Friday Gravel on Strava and 29M Black Friday Gravel on Strava.  The rides are also available in various RideWithGPS formats. 
 Meet at the Rolling Hills Lodge at 9:45 AM and then we will head out by 10:15 AM latest.  After the ride, we will refuel with pizza and refreshments at The Lodge between 12:30 and 1 PM. Please only click "Going" if you are sure to attend so a good estimate of riders can be made for the pizza and beverages.  Rain date will be Saturday 11/27 at 10 AM. Look for changes in schedule on the Poto MBA FB page or the Wheels in Motion FB page. 
 Please park in the MTB trail head parking lot:  enter the park, go straight through the traffic circle and park in the first lot on your right next to a big pavilion ~1/4 mile west of the circle. The Lodge will be about 200 yards away on your left.  There may be a gate charge to enter RHP.  It is a Washtenaw County Park so if you already have WCP sticker you are good to go. 
 For those looking for more miles, there's a 46-mile gravel option from RHP but it won't be an official part of the event.  Also, since the RHP and HCP trails are well suited for gravel and cross bikes too, it's easy to do any of the gravel rides and hop on HCP off Bemis or Hitchingham Roads towards the end of your ride.  If you and friends choose this option, plan to start earlier and aim to return to The Lodge by 12:30 to 12:45 PM.  But choose "Going" to be counted towards food and beverages. 
 Last but definitely not least, we have to thank Wheels in Motion for supporting Poto MBA and the local bike community by sponsoring the BFR since its inaugural event in 2009.