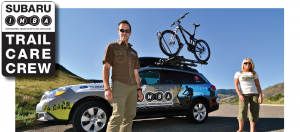 The Potowatomi Chapter of the IMBA is very excited to announce a visit the by the IMBA-Subaru Trail Care Crew (TCC) team this fall to our area. The TCC will be with us from September 12th through 15th. The visit consists of a number of events which are open to the mountain biking community.
Thursday, September 12th, 7-9 : Club Care Session – a learning event for bikers who are active in their local chapters and want to learn how to nurture and grow their community. Location: Wolverine Brewing Company in Ann Arbor. Details and registration here: http://3.23.157.82/?event=imbasubaru-club-care-presentation
Friday, September 13th, 9 am – 12 pm : Land Manager's Training – the trail building class for land managers. All city, county, state, national (and other!) land manager's are invited to attend this. Location: Putnam Township Hall.  Email info@potomba.com for more information or to register.
Saturday, September 14th, 8:30 – 4:30 : Trail Building School – come learn how to build and maintain sustainable trails with the pros. The class consists of a morning classroom session and an afternoon out in the field. Location: Pinckney District Library. Details and registration here: http://3.23.157.82/?event=imbasubaru-trail-building-school
Please be sure to sign-up ahead of time if you are coming to either the Thursday or Saturday event. There are limits on how many people can attend so we may run out of space.
If you have any questions, post back here or email info@3.23.157.82